---
Cannon EOS 63MP
22. 4. 2008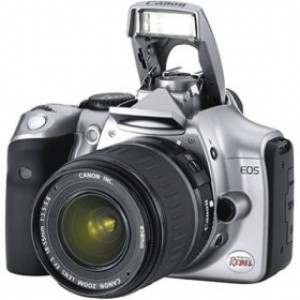 Technical Details
The Canon EOS DigitalRebel brings advanced digital performance and SLR controls to everyday photographers. Whether you're new to digital cameras, SLR cameras, or even photography itself, you'll find that the EOS Digital Rebel is powerful yet fun and easy to use. It features a 6.3-megapixel sensor, automatic and manual controls, and compatibility with Canon's range of EF lenses.
This model comes with the Canon EF-S 18-55mm, f3.5-5.6 zoom lens. Compact and ultralightweight with impressive close-focusing ability, this lens features optimized coating for the Digital Rebel's imaging sensor to minimize ghost images and flare. It comes with a lens cap and dust cap. Power and Size The camera is powered by a rechargeable lithium-ion battery (BP-511, included). It measures 5.6 by 3.9 by 2.9 inches and weighs 19.7 ounces (excluding battery).
What's In The Box
This package includes the EOS Digital Rebel digital camera with 18-35mm lens, a rechargeable lithium-ion battery pack (BP-511) and battery charger (CB-5L), USB and AV cables, and a wide neck strap. It also comes with Adobe Photoshop Elements and Digital Camera Solutions CD-ROMs with imaging software and USB drivers for Windows and Mac.
Zaváděcí cena: 8250,-