---
CyberHome CH LDV1010R
23. 4. 2008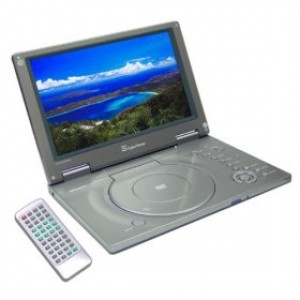 Technical Details
Portable DVD player with 10-inch active-matrix LCD in 16:9 widescreen format with video-mode switching for standard 4:3 viewing
Plays DVD-Video, VCD/SVCD, MP3 CD, JPEG CD, DVD-R/RW, DVD+R/RW; AV input enables viewing from an external device
Progressive-scan video output with 3:2 pulldown reversal for seamless, flicker-free images on high-definition and HD-ready TVs
2.5-hour battery sufficient to view most movies on a single sitting; vehicle power adapter saves batteries while you're on the road
Measures 10.2 x 1.7 x 6.9 inches (W x H x D) with battery
Perfect in the car, on the plane, or anywhere you want to enjoy personal DVD or CD entertainment, CyberHome's CH-LDV 1010RS with its massive 10-inch LCD weighs in at under 4 pounds with its rechargeable battery in place. Its widescreen (16:9) aspect ratio displays your favorite movies in their native dimensions and gives you the option to fill the screen with discs formatted in the standard 4:3 TV aspect ratio. The screen offers vivid images with its 300:1 contrast ratio and high, 400 cd/m2 brightness.
Choose to listen from the unit's built-in stereo speakers or its headphone jack and supplied earbud headphones. The unit's 2.5-hour battery life gives you enough juice to watch most full-length movies in a single sitting. Full format compatibility includes everything from NTSC and PAL-formatted DVD to audio CD, VCD, SVCD, CD-R, CD-RW, JPEG CD/Kodak Picture CD, MP3 CD, DVD+R, DVD+RW, DVD-R, and DVD-RW. Taking the player on the road? Conserve batteries by plugging it into your vehicle's cigarette lighter with a supplied DC power adapter.
When you feel like relaxing at home, simply connect the CH-LDV 1010RS to your TV and home theater system--it functions just like a conventional home DVD Player, complete with a wireless remote control. Supplied video and audio cables let you quickly take advantage of the 1010RS's progressive-scan video output.
Whether your living room is currently home to an HDTV or you're merely thinking of "someday," the CH-LDV 1010RS is ready to deliver the full potential of your commercial DVDs when used in a home-theater environment. Progressive scanning, referred to as 480p for the number of horizontal lines that compose the video image, creates a picture using twice the scan lines of a conventional DVD picture, giving you higher resolution and sharper images while eliminating nearly all motion artifacts.
The player also performs 3:2 pulldown reversal through its progressive-scan output. DVD mastering introduces a common distortion when adjusting 24 frames-per-second movies to 30 fps video; 3:2 pulldown digitally corrects this distortion, removing the redundant information to display a film-frame-accurate picture.
Other connection options include S-video and composite-video outputs (through the unit's single minijack video output, which is switchable as an input), and a switchable minijack analog audio input/output. A minijack optical digital-audio output (cable not supplied) lets you hook the player up with your audio/video receiver and multichannel speaker system to enjoy enveloping Dolby Digital 5.1-channel surround from your discs.
What's in the Box
DVD player, earbud headphones, an AC power adapter, a DC automobile power adapter, a remote control, a remote battery, an audio output cable, a video output cable, and a user's manual.
Product Description
Marketing description is not available. Please refer to the manufacturer web site for any updated marketing information.
Zaváděcí cena: